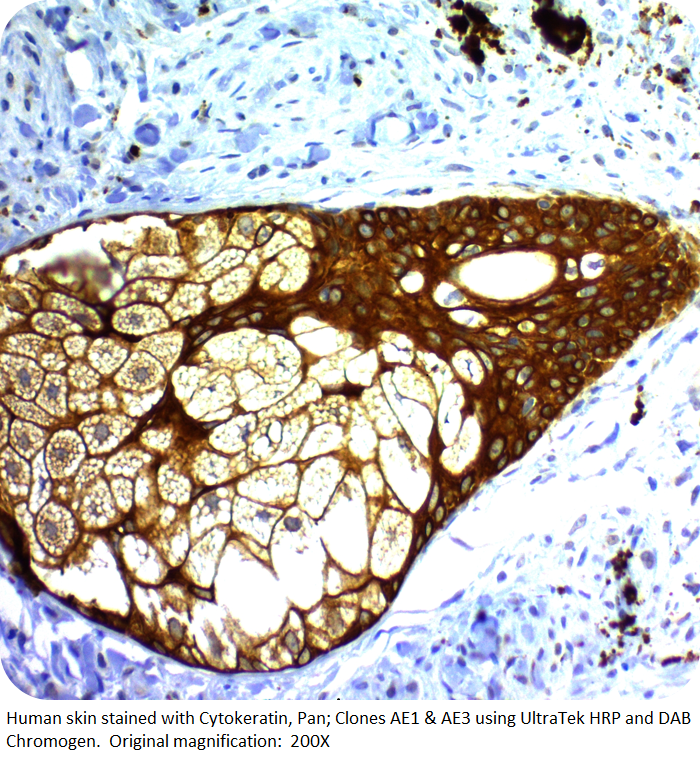 Species: Mouse
Immunogen: Human epidermal keratin
Clone: AE-1 & AE-3
Isotype: IgG1, kappa (AE-1); IgG1, kappa (AE-3)
Species Reactivity: Human, Monkey, Cow, Dog, Rabbit, Mouse, Rat, Chicken. Others not known.
Positive Control: Skin, Adeno- or Squamous carcinomas.
Specificity: This antibody cocktail recognizes acidic (Type I or LMW) and basic (Type II or HMW) cytokeratins, which include 67kDa (CK1); 64kDa (CK3); 59kDa (CK4); 58kDa (CK5); 56kDa (CK6); 52kDa (CK8); 56.5kDa (CK10); 50kDa (CK14); 50kDa (CK15); 48kDa (CK16); 40kDa (CK19). This antibody stains cytokeratins present in normal and abnormal human tissues and has shown high sensitivity in the recognition of epithelial cells and carcinomas.